---
Welcome to Catskill Horse.
Welcome to The Merry Band at the Catskill Horse. We hope you enjoy browsing our monthly online magazine. This .org digital magazine, began as a community resource serving the North East region of the USA, and has grown to reach a national and even international audience. The complete source for everything horse with a bevy of archived educational articles, tips and advice for multi-riding disciplines for horse owners everywhere that encompasses everything horse and rural lifestyle related.
In addition to our Directory of useful services and horse lover articles check out our latest features Hit the Hay Accommodation Guide, The Feed Bucket Restaurant Guide, Horse and Home Real Estate Guide, Stallion Directory and Equine Art at the Catskill Horse. Plus coming soon our shopping choice guide! Come join our Merry Band at the Catskill Horse. And don't forget to check in at our Facebook page for our weekly Giveaway contests.
---

---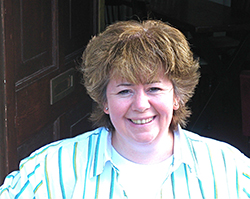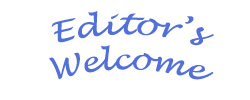 It's hard to believe we're just halfway through November and we've already had a Nor'easter strike. How many of you were properly prepared for winter weather this early in the snow season? In case you need a little help here's a few tips that may help your preparations for cold weather go more smoothly.
Fall is the season you need to be on the look out for the dreaded bots! These specks of white, yellow and grey bot eggs on your horse's coat do need removal and treatment. Find out what to do, why and when to do it in this feature A Bit About Bots.
Fall/Winter is a great time to catch up with some good reading and improve your understanding of horse training. In our feature Lightness in Dressage you'll learn some interesting points of view from the varietal great masters of dressage such as L'Hotte of the French School.
For those of you contemplating plans to add a new structure to your property the Fall/Winter is the perfect time to plan. As you sweep the snow off the pick-up truck you are probably wishing you had a garage you could park in or a place to store your horse trailer where you could hitch it up and pull it out whenever you wanted to head out to a clinic or event. Just because winter arrives, doesn't mean you should stop riding. Trailering to a nearby indoor to ride, either in an event or just for a schooling session can keep your horse fit and healthy and help you avoid those 'cabin fever' blues. Before you add any structure to your property it is important that the site is properly prepared. Check out this advice on the smart way to ensure the best outcome for your building's longevity and soundness.
Talking of cabins, the modular log home or cabin build is extremely popular. Perhaps because these structures are easy to obtain and provide a rustic country appeal to folks that love the outdoors. Not all log homebuilders are created equal as you might expect. We talked to leading East Coast log home company, Zook Cabins, to find out what you should look out for when setting off on the trail for a new log home or cabin.
I hope you enjoy this issue. It's free as usual for you to enjoy and we thank our loyal advertisers for their support. And talking of advertiser's, we'd also like to give a shout out to The Horse Studio online tack shop, for their support of this publication from the very beginning of its birth. The Horse Studio is realigning its business, and a transformation is in place. While their trademarked corporate entity will remain, sadly, they are closing their tack room doors. If you'd like to capture so superb deals, they are currently offering a special coupon code 'CLOSEOUT' that will save you an additional 50% off their already discounted prices with a flat shipping rate in the U.S.A. of just $9.95. Please say thanks by showing them some support when you do your holiday shopping and share the coupon with family and friends. No minimum order necessary, and you can use it as many times as you wish until the end of 2018.
Check out our popular A Bit of Advice and Bit Between the Teeth columns. The latest advice topic is on how to get your horse on the bit and our controversial column Bit Between the Teeth always has something going on to get your goat!
Thanks so much for reading and please share news of our magazine with your friends and family.
If you write and would like to contribute; have news you would like to share about your organization or activities at your farm, please email info@CatskillHorse.org
Please to visit our Facebook page and keep up on current news and come join the chat at the Catskill Equestrian Group too.
Happy Riding!
Nikki Alvin-Smith
Editor
Catskill Horse Magazine
Publisher: Horse in a Kilt Media Inc.
---
Winner of our free book contest: A Copy of Fergus and The Night Before Christmas
from author Jean Abernethy


Winner is Deb Valerio.
"This is perfect. My grandchild loves Fergus. Thank you.." Deb
---
Catskill Horse T-Shirts & Notebooks Now Available & Enter to Win $50 Gift Certificate from TheHorseStudio.com
Catskill Horse is pleased to announce that we now have T-Shirts, mugs and notebooks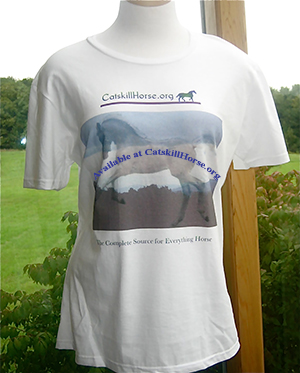 with our own arty design available for purchase to help spread the word.
Buy any one of our products - choose from our 100% cotton T's and email us a picture of you wearing it with your horse in the photo, or buy a mug or notebook and email us photo of you and your horse and the product in the picture and be automatically entered in our Fall contest. This is your chance to win a $50 gift certificate from TheHorseStudio.com, The International Equestrian Shop. The Horse Studio is a Stamford, New York based online equestrian store that offers the largest online selection of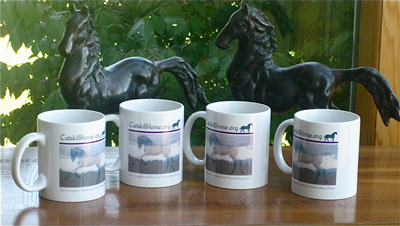 quality horse DVDs and books with hundreds of titles to choose from in addition to lots of tack and performance riding apparel and gifts. Please be sure to include your email address with your order to be entered in the contest.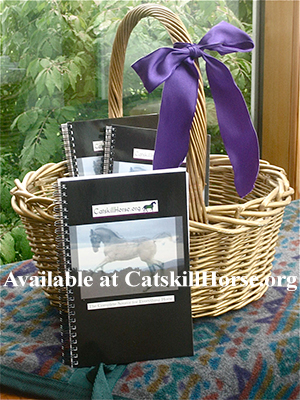 T-Shirts are available in Womens Fitted S/M/L/Xl and Unisex S/M/L/XL/2XL for only $20 plus $6.50 S/H. If you are located in NY please add 8% sales tax.
Mugs: $12.95 plus $6.50 S/H. Please add 8% sales tax if you are located in NY.
These fun notebooks are available for $11.95 plus S/H fee of $2.00. Please also add 8% sales tax if located in NYS.
Checks should be payable to Horse in a Kilt Media Inc., and mailed to P.O. Box 404, Stamford, NY 12167. Please allow 1-2 weeks for delivery.
---
Vaccine Risks?
Here is some advice on what to look out for as your horse is administered vaccines this season. There have been reports of some serious adverse reactions this year, so be vigilant and ask your vet for their advice and specifically what adverse vaccine reports they have received through their channels.
It's important to be able to distinguish between minor side effects and those reactions that warrant a call to your veterinarian.
 
Normal Responses
After intramuscular vaccination, it's fairly common for horses to experience mild, temporary side effects for a few hours such as:
• Local muscle soreness or swelling
• Fatigue
• Fever
• Loss of appetite
• Lack of energy or alertness 
 
However, if the signs listed above last for more than 24 hours, you should consult your veterinarian as soon as possible to inform them of what is going on with the horse. This will allow your veterinarian to provide you with treatment advice and care instructions.
 
Causes for Possible Concern
Sometimes more serious side effects, and in some cases, life-threatening events, can occur, including:
• Hives
• Difficulty breathing
• Collapse
• Colic
• Swelling at the injection site several days post vaccination.
These more serious side effects are rare, but do require immediate consultation, and, in some cases, medical intervention.
 
Working with your veterinarian is the best way to ensure your horse is being evaluated based upon its particular needs. Many veterinarians follow the American Association of Equine Practitioners' recommended guidelines for core vaccinations.  Veterinarians can also be helpful in determining the need for other risk-based vaccinations based on an assessment of your geographic threats and travel plans. They are also familiar with the proper handling and administering of vaccines, which is important because those handled improperly can actually become ineffective or may increase the risk of side effects.
CH note: This advice comes from a leading vaccine manufacturer and is provided in excerpts.
---
Careers in the Horse Industry
A Kind Offer.
Catskill Horse is pleased to have negotiated a special offer for its readers with the professional resume masters at Resume Specialist Services. Resume Specialist Services (RSS) will offer all Catskill Horse readers a special 10% discount off all their equine industry resume services.
If you have just graduated from local equine studies programs, moved in to the area or find yourself without a job after years working in the industry due to the economic downturn then RSS can help. Resume packages are extremely reasonable. We thank them for the kind offer for our local equestrians. Please visit them at http://www.ResumeSpecialistServices.com to learn more. Mention Catskill Horse at time of payment and they will refund you 10% of your package cost when they complete a powerful new resume for you.
As a specialist industry there are so many avenues in the horse world that there are probably careers you may not have even contemplated in your job search. Their packages include a one on one interview so your individual experience and skill sets can be analyzed and tips and ideas for new careers in the equestrian world are included. That's a sweet deal.
---
Come chat on Facebook.
For lots of up to date news and events please fan us on facebook at www.facebook.com/CatskillHorse.
Want to chat too? Check out www.facebook.com/CatskillEquestrianGroup
---
Promote your event.
Have an event planned? Send us the details and we'll post it our events calendar page.
---
Do You Love To Write?
While Catskill Horse has a staff of professional contributing writers/reporters/photographers, Catskill Horse is always interested in receiving submissions of articles and photos for publication from new writers. We can provide a photo or authorship credit for those works accepted. Please do not submit via mail - we prefer email submission. Send your ideas/articles/wrap up features/photos to us at info@CatskillHorse.org marked attention Editorial. If accepted you will be notified via email.
---
Keep up to date.
Send your email address to info@CatskillHorse.org and we'll be sure to add you to our mailing list.