---
Welcome to Catskill Horse.
Welcome to The Merry Band at the Catskill Horse. We hope you enjoy browsing our monthly online magazine. This .org digital magazine, began as a community resource serving the North East region of the USA, and has grown to reach a national and even international audience. The complete source for everything horse with a bevy of archived educational articles, tips and advice for multi-riding disciplines for horse owners everywhere that encompasses everything horse and rural lifestyle related.
In addition to our Directory of useful services and horse lover articles check out our latest features Hit the Hay Accommodation Guide, The Feed Bucket Restaurant Guide, Horse and Home Real Estate Guide, Stallion Directory and Equine Art at the Catskill Horse. Plus coming soon our shopping choice guide! Come join our Merry Band at the Catskill Horse. And don't forget to check in at our Facebook page for our weekly Giveaway contests.
---

---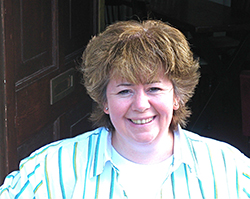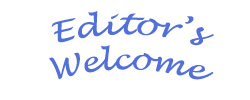 The Merry Band at The Catskill Horse wishes everyone a very Happy Holiday season. Another year is almost over and it is a great time to reflect on 2018 and we offer sincere gratitude to our readership, advertisers and writers that have all come together since 2012 to make this digital magazine a success.
From small acorns large oaks can grow, and the last six years has seen exponential growth in the viewership of Catskill Horse. We receive letters from folks as far away as South Africa and the U.K., and our audience is indeed spread far and wide. From Patagonia, South America to Prince Edward Island, Canada and all sorts of wonderful places in between.
Some of our advertisers report sales nationwide and we are very proud to have been able to help support those that underwrite the costs of this publication to keep it free for everyone to enjoy.
2019 is around the corner and with it we hope Catskill Horse will continue to expand its viewership from the 69,000 plus folks we already reach. As always we welcome your input as to suggestions for improvement in what Catskill Horse offers and how it is provided.
This month's edition has some interesting and informative articles we hope you will enjoy. Our thanks to Tina Hammond for stepping in at the last minute to provide an article, when one of our volunteer writers didn't come through on schedule. Tina has enjoyed a career as a professional groom on the European 'A' circuit in the showjumping world. She shares her experience of the ups and downs of that career with some heartfelt advice in The Life of a Professional Show Groom.
Winter is the perfect time to plan that new barn build, so check in with the new Stall to Stable podcast and learn about The Modular Barn Has Come A Long Way. If you have been experiencing cold weather in your neck of the woods then winter woes probably have you scratching your head for more storage solutions for your hay, supplies and equipment. We have a look at a 'source resource' for all your storage solutions from an Amish building company that is truly a one stop shop. There is something nice about keeping everything under one roof when it comes to shopping for multiple storage options.
You've probably been reading a lot about F.E.C.T. and how best to treat your horse with dewormers in the modern day without wasting money but while keeping your horse on track for optimum health. One of the greatest hazards in the equine parasitology box of worms is the strongyle worm. Learn the difference between small and large strongyles and learn how effective testing can mitigate any potential damage they may do to your horse.
We hope you enjoy this edition and stay safe out there!
The Merry Band at The Catskill Horse wishes each and every one of you a very happy, peaceful and healthy 2019…
Check out our popular A Bit of Advice and Bit Between the Teeth columns. The latest advice topic is on how to get your horse on the bit and our controversial column Bit Between the Teeth always has something going on to get your goat!
Thanks so much for reading and please share news of our magazine with your friends and family.
If you write and would like to contribute; have news you would like to share about your organization or activities at your farm, please email info@CatskillHorse.org
Please to visit our Facebook page and keep up on current news and come join the chat at the Catskill Equestrian Group too.
Happy Riding!
Nikki Alvin-Smith
Editor
Catskill Horse Magazine
Publisher: Horse in a Kilt Media Inc.
---
Check Out Horse Radio Network Alumni Helena Harris Podcast Stall and Stable
Listen in for advice "Keeping a Grand Prix Dressage Horse".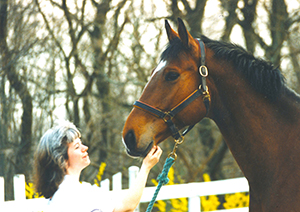 ---
Catskill Horse T-Shirts & Notebooks Now Available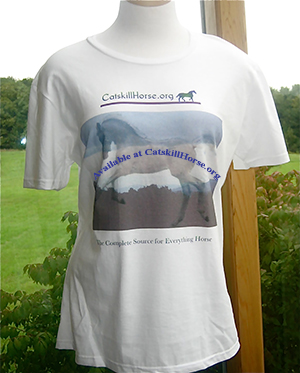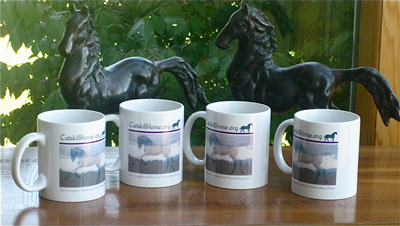 Catskill Horse is pleased to announce that we now have T-Shirts, mugs and notebooks with our own arty design available for purchase to help spread the word.
Buy any one of our products - choose from our 100% cotton T's or buy a mug or notebook.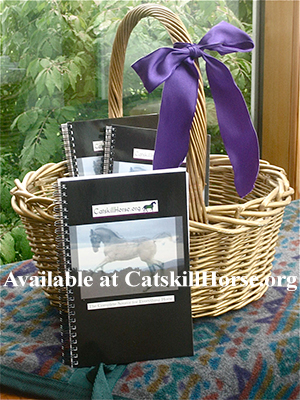 T-Shirts are available in Womens Fitted S/M/L/Xl and Unisex S/M/L/XL/2XL for only $20 plus $6.50 S/H. If you are located in NY please add 8% sales tax.
Mugs: $12.95 plus $6.50 S/H. Please add 8% sales tax if you are located in NY.
These fun notebooks are available for $11.95 plus S/H fee of $2.00. Please also add 8% sales tax if located in NYS.
Checks should be payable to Horse in a Kilt Media Inc., and mailed to P.O. Box 404, Stamford, NY 12167. Please allow 1-2 weeks for delivery.
---
Vaccine Risks?
Here is some advice on what to look out for as your horse is administered vaccines this season. There have been reports of some serious adverse reactions this year, so be vigilant and ask your vet for their advice and specifically what adverse vaccine reports they have received through their channels.
It's important to be able to distinguish between minor side effects and those reactions that warrant a call to your veterinarian.
 
Normal Responses
After intramuscular vaccination, it's fairly common for horses to experience mild, temporary side effects for a few hours such as:
• Local muscle soreness or swelling
• Fatigue
• Fever
• Loss of appetite
• Lack of energy or alertness 
 
However, if the signs listed above last for more than 24 hours, you should consult your veterinarian as soon as possible to inform them of what is going on with the horse. This will allow your veterinarian to provide you with treatment advice and care instructions.
 
Causes for Possible Concern
Sometimes more serious side effects, and in some cases, life-threatening events, can occur, including:
• Hives
• Difficulty breathing
• Collapse
• Colic
• Swelling at the injection site several days post vaccination.
These more serious side effects are rare, but do require immediate consultation, and, in some cases, medical intervention.
 
Working with your veterinarian is the best way to ensure your horse is being evaluated based upon its particular needs. Many veterinarians follow the American Association of Equine Practitioners' recommended guidelines for core vaccinations.  Veterinarians can also be helpful in determining the need for other risk-based vaccinations based on an assessment of your geographic threats and travel plans. They are also familiar with the proper handling and administering of vaccines, which is important because those handled improperly can actually become ineffective or may increase the risk of side effects.
CH note: This advice comes from a leading vaccine manufacturer and is provided in excerpts.
---
Careers in the Horse Industry
A Kind Offer.
Catskill Horse is pleased to have negotiated a special offer for its readers with the professional resume masters at Resume Specialist Services. Resume Specialist Services (RSS) will offer all Catskill Horse readers a special 10% discount off all their equine industry resume services.
If you have just graduated from local equine studies programs, moved in to the area or find yourself without a job after years working in the industry due to the economic downturn then RSS can help. Resume packages are extremely reasonable. We thank them for the kind offer for our local equestrians. Please visit them at http://www.ResumeSpecialistServices.com to learn more. Mention Catskill Horse at time of payment and they will refund you 10% of your package cost when they complete a powerful new resume for you.
As a specialist industry there are so many avenues in the horse world that there are probably careers you may not have even contemplated in your job search. Their packages include a one on one interview so your individual experience and skill sets can be analyzed and tips and ideas for new careers in the equestrian world are included. That's a sweet deal.
---
Come chat on Facebook.
For lots of up to date news and events please fan us on facebook at www.facebook.com/CatskillHorse.
Want to chat too? Check out www.facebook.com/CatskillEquestrianGroup
---
Promote your event.
Have an event planned? Send us the details and we'll post it our events calendar page.
---
Do You Love To Write?
While Catskill Horse has a staff of professional contributing writers/reporters/photographers, Catskill Horse is always interested in receiving submissions of articles and photos for publication from new writers. We can provide a photo or authorship credit for those works accepted. Please do not submit via mail - we prefer email submission. Send your ideas/articles/wrap up features/photos to us at info@CatskillHorse.org marked attention Editorial. If accepted you will be notified via email.
---
Keep up to date.
Send your email address to info@CatskillHorse.org and we'll be sure to add you to our mailing list.