---
Welcome to Catskill Horse.
Welcome to The Merry Band at the Catskill Horse. We hope you enjoy browsing our monthly online magazine.
In addition to our Directory of useful services and horse lover articles check out our latest features Hit the Hay Accommodation Guide, The Feed Bucket Restaurant Guide, Horse and Home Real Estate Guide, Stallion Directory and Equine Art at the Catskill Horse. Plus coming soon our shopping choice guide! Come join our Merry Band at the Catskill Horse. And don't forget to check in at our Facebook page for our weekly Giveaway contests.
---

---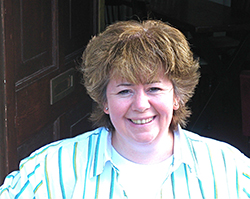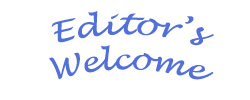 Well the summer is over and the show season in the North East is winding down. Clinic season is in full swing and there are lots of folks planning their travel South for the show season. Now the kids are back in school and the weather is cooler, it is the perfect time to devote yourself to more time in the saddle. That's not always easy is it? Between work, family and chores the day is soon over. Take a look at our article Make Time to Ride for some advice on where to find those extra hours everyday that will give you time to ride. Your horse will thank you for it.
Also in this new issue of Catskill Horse magazine we've brought you some smart financial advice on making sure your new barn purchase is on track and on budget with no hidden surprises. If a new horse barn is in your future don't miss this sincere advice from Horizon Structures. If you'd like a FREE run-in shed don't forget to enter their sweepstakes competition by October 15th! The entry information is at the tail of their feature article A Quick 101 Course on Smart Horse Barn Purchase
Fall is also hunting season so be careful out there if you are trail riding. If you have a property you are thinking of developing we also found out now is the time to buy if you want a deal on a splendid log home. In our article Take the Smart Road to Log Home Buying we speak with leading East Coast log home manufacturing company Zook Cabins and learn much about how to cash in on some serious savings on the cost of a new log home. Now is the time to make your dream home a reality.
Fall is also the perfect time to take a look at your horse worm control program. You may have seen a fair bit of press recently over the new protocols suggested by our scientists for deworming and targeted horse worm control. In our feature Debunking Myths About Equine Fecal Egg Count Efficacy in Horse Worming Programs we sit down with specialist Dr. John Byrd and get answers. Learn what tests to do, which worm species to be concerned about when and how to properly collect horse fecal samples for testing. There are plenty of myths out there so consulting an expert who has run over 75,000 egg worm tests and is a specialist in internal equine parasitology makes sense.
In the past few weeks the World Equestrian Games and Hurricane Florence have been front and center in the equestrian press. Read our latest blog on Catskill Horse for thoughts on what went wrong and what went right at the event.
Fall is here and winter is coming. On the shopping front it is also time to think about protecting your investments and here we are talking about vehicles and equipment. There are so many options out there when it comes to garage design. Learn about the myriad of choices available and how you can finance a structure now and have your car 'stabled' before the snow flies in our article All Types of Horsepower Need a Stable
Enjoy this FREE as always read of Catskill Horse magazine. We are celebrating our 40th edition in October and you can expect a bumper issue. A note to our advertisers, this is a great time to get in front of our 70,000 viewers so call us for our special 40th Anniversary rates.
Don't forget to visit our Facebook page and enter for your chance to win a copy of 55 Corrective Exercises for Horses from author Jec Aristotle Ballou– competition ends Octoner 15th and the winner will be announced on our Facebook page. A review of the book can be found on our Yay or Neigh column.
Check out our popular A Bit of Advice and Bit Between the Teeth columns. The latest advice topic is on how to get your horse on the bit and our controversial column Bit Between the Teeth always has something going on to get your goat!
Thanks so much for reading and please share news of our magazine with your friends and family.
If you write and would like to contribute; have news you would like to share about your organization or activities at your farm, please email info@CatskillHorse.org
Please to visit our Facebook page and keep up on current news and come join the chat at the Catskill Equestrian Group too.
Happy Riding!
Nikki Alvin-Smith
Editor
Catskill Horse Magazine
Publisher: Horse in a Kilt Media Inc.
---
Enter For Your Chance to Win A Copy of 55 Corrective Exercises for Horses from author Jec Aristotle Ballou


Contest is open:
Enter for your chance to win a copy of this fabulous book Equine Lameness for the Layman
Here's how ~
Step 1. Visit Catskill Horse Facebook page and give it a like.
Step 2. Post a photo of you and your horse
Step 3. Share this post on your page from Catskill Horse page
Winner will be announced October 15th on Facebook.

Good luck!
---
Choose Hemp Instead of Soy!
By Juliet M. Getty, Ph.D.

The ingredients tag on your commercial feed says it all. Protein source? Likely, soybeans. Fat source? Likely, soybean oil. But the love affair with soy is starting to fade. An increasing number of feed manufacturers are coming out with soy-free lines due to consumer demand. There are several reasons for this:


· Many horses seem to be to allergic to soy, exhibiting respiratory, skin and digestive reactions. Some of this may be a legitimate allergic response to allergens found in soy or it could have nothing to do with allergies and may be related to GMO soy. Most soy grown in the US is genetically modified, which has been implicated for variety of health issues. Discussion about this is beyond the scope of this article but suffice it to say, that if you are going to feed soy, it is best to find a non-GMO, and preferably organic source.

· It is difficult to ascertain from a feed label if the soy product has been heat-treated (necessary for inactivating trypsin inhibitor found in raw soybeans). Trypsin inhibitor reduces protein digestion.

· Soy contains significant levels of isoflavones, a type of phytoestrogen, which may mimic estrogen in the body and influence behavior, affect breeding, or interact with other hormones.

· Soybean oil is very high in linoleic acid, an omega 6 fatty acid. Some linoleic acid is required because it is classified as essential, meaning the horse cannot produce it. But too much, relative to alpha linolenic acid (ALA), an essential omega 3 fatty acid, will increase inflammation throughout the body. Since soybean oil has approximately eight times more linoleic acid than ALA, it can lead to health issues relating to joints, digestive tract, hooves, eyes, skin, lungs, and even the brain. Read the full article...
---
Where are all the horses?
Placed high on mounds in the distance were spectacular barns – horse "hotels" where horses reside – some just during the day, some for most of the time.
While this may be convenient for the horse owner, standing in a small area for hours on end (even if part of it is outdoors) takes its toll on your horse's mental and physical health, to such a great extent, that it dramatically diminishes his quality, and length, of life. Horses need to move. Ever tried staying in a small room for most of the day? And we like cozy places! Horses do not! Their very survival depends on their ability to flee at a moment's notice from dangers, real or perceived. Trapped, they eventually succumb to their fate, appearing as though they are accepting and perhaps even appreciating their solitude. But the stress takes its toll on their immune system and hormonal responses, leading to a vast variety of health issues.
All body systems, including cardiovascular, respiratory, digestive, reproductive, neuromuscular, and skeletal systems depend on exercise to remain sound. If the horse cannot be ridden every day, many will benefit from simply being lunged or worked in a round pen. And all horses benefit from free exercise by walking around in a large pasture (or large dry lot with hay available). Read the full article...
---
Catskill Horse T-Shirts & Notebooks Now Available & Enter to Win $50 Gift Certificate from TheHorseStudio.com
Catskill Horse is pleased to announce that we now have T-Shirts, mugs and notebooks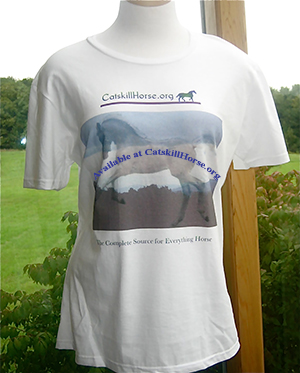 with our own arty design available for purchase to help spread the word.
Buy any one of our products - choose from our 100% cotton T's and email us a picture of you wearing it with your horse in the photo, or buy a mug or notebook and email us photo of you and your horse and the product in the picture and be automatically entered in our Fall contest. This is your chance to win a $50 gift certificate from TheHorseStudio.com, The International Equestrian Shop. The Horse Studio is a Stamford, New York based online equestrian store that offers the largest online selection of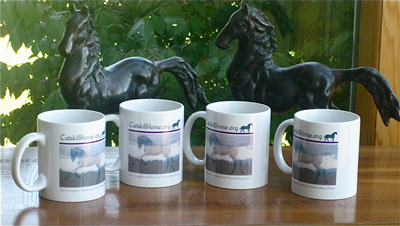 quality horse DVDs and books with hundreds of titles to choose from in addition to lots of tack and performance riding apparel and gifts. Please be sure to include your email address with your order to be entered in the contest.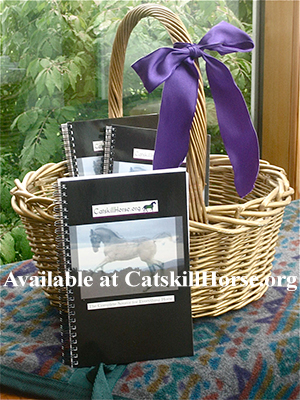 T-Shirts are available in Womens Fitted S/M/L/Xl and Unisex S/M/L/XL/2XL for only $20 plus $6.50 S/H. If you are located in NY please add 8% sales tax.
Mugs: $12.95 plus $6.50 S/H. Please add 8% sales tax if you are located in NY.
These fun notebooks are available for $11.95 plus S/H fee of $2.00. Please also add 8% sales tax if located in NYS.
Checks should be payable to Horse in a Kilt Media Inc., and mailed to P.O. Box 404, Stamford, NY 12167. Please allow 1-2 weeks for delivery.
---
Vaccine Risks?
Here is some advice on what to look out for as your horse is administered vaccines this season. There have been reports of some serious adverse reactions this year, so be vigilant and ask your vet for their advice and specifically what adverse vaccine reports they have received through their channels.
It's important to be able to distinguish between minor side effects and those reactions that warrant a call to your veterinarian.
 
Normal Responses
After intramuscular vaccination, it's fairly common for horses to experience mild, temporary side effects for a few hours such as:
• Local muscle soreness or swelling
• Fatigue
• Fever
• Loss of appetite
• Lack of energy or alertness 
 
However, if the signs listed above last for more than 24 hours, you should consult your veterinarian as soon as possible to inform them of what is going on with the horse. This will allow your veterinarian to provide you with treatment advice and care instructions.
 
Causes for Possible Concern
Sometimes more serious side effects, and in some cases, life-threatening events, can occur, including:
• Hives
• Difficulty breathing
• Collapse
• Colic
• Swelling at the injection site several days post vaccination.
These more serious side effects are rare, but do require immediate consultation, and, in some cases, medical intervention.
 
Working with your veterinarian is the best way to ensure your horse is being evaluated based upon its particular needs. Many veterinarians follow the American Association of Equine Practitioners' recommended guidelines for core vaccinations.  Veterinarians can also be helpful in determining the need for other risk-based vaccinations based on an assessment of your geographic threats and travel plans. They are also familiar with the proper handling and administering of vaccines, which is important because those handled improperly can actually become ineffective or may increase the risk of side effects.
CH note: This advice comes from a leading vaccine manufacturer and is provided in excerpts.
---
Careers in the Horse Industry
A Kind Offer.
Catskill Horse is pleased to have negotiated a special offer for its readers with the professional resume masters at Resume Specialist Services. Resume Specialist Services (RSS) will offer all Catskill Horse readers a special 10% discount off all their equine industry resume services.
If you have just graduated from local equine studies programs, moved in to the area or find yourself without a job after years working in the industry due to the economic downturn then RSS can help. Resume packages are extremely reasonable. We thank them for the kind offer for our local equestrians. Please visit them at http://www.ResumeSpecialistServices.com to learn more. Mention Catskill Horse at time of payment and they will refund you 10% of your package cost when they complete a powerful new resume for you.
As a specialist industry there are so many avenues in the horse world that there are probably careers you may not have even contemplated in your job search. Their packages include a one on one interview so your individual experience and skill sets can be analyzed and tips and ideas for new careers in the equestrian world are included. That's a sweet deal.
---
Come chat on Facebook.
For lots of up to date news and events please fan us on facebook at www.facebook.com/CatskillHorse.
Want to chat too? Check out www.facebook.com/CatskillEquestrianGroup
---
Promote your event.
Have an event planned? Send us the details and we'll post it our events calendar page.
---
Do You Love To Write?
While Catskill Horse has a staff of professional contributing writers/reporters/photographers, Catskill Horse is always interested in receiving submissions of articles and photos for publication from new writers. We can provide a photo or authorship credit for those works accepted. Please do not submit via mail - we prefer email submission. Send your ideas/articles/wrap up features/photos to us at info@CatskillHorse.org marked attention Editorial. If accepted you will be notified via email.
---
Keep up to date.
Send your email address to info@CatskillHorse.org and we'll be sure to add you to our mailing list.