---
Welcome to Catskill Horse.
Welcome to The Merry Band at the Catskill Horse. We hope you enjoy browsing our monthly online magazine. This .org digital magazine, began as a community resource serving the North East region of the USA, and has grown to reach a national and even international audience. The complete source for everything horse with a bevy of archived educational articles, tips and advice for multi-riding disciplines for horse owners everywhere that encompasses everything horse and rural lifestyle related.
In addition to our Directory of useful services and horse lover articles check out our latest features Hit the Hay Accommodation Guide, The Feed Bucket Restaurant Guide, Horse and Home Real Estate Guide, Stallion Directory and Equine Art at the Catskill Horse. Plus coming soon our shopping choice guide! Come join our Merry Band at the Catskill Horse. And don't forget to check in at our Facebook page for our weekly Giveaway contests.
---

---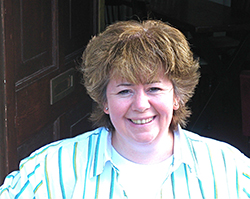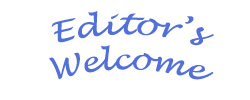 Rain, rain, go away
We're all waiting to cut some hay,
Bring the warmth and bring the sun,
So we can go and get it done.
It certainly has been a very wet Spring and the hay is "blowin' in the wind" just waiting on Mother Nature to step in with some heat and dry weather. Horse owners are understandably anxious to get hay in as last year was such a poor year for regional farmers in the North-East and supplies are dauntingly in short supply.

I have just returned from a tour of the U.K. giving dressage clinics and taking in some more education from some astonishingly wonderful Olympic competitors, and we only had one day of Spring showers during the whole visit which was extraordinary for the time of year. Perhaps the weather has reversed itself across the pond because the fields here are very green and verdant pastures do grow.
Talking of events and travel, our events page is full of great shows and clinics to fill your calendar with all things horsey!
Meantime show season is in full swing and the busy riding season is here. It's the perfect time to take your horse training business to the next level and to take some additional time out to get fit to be a better athlete. Check out our new feature articles on "The Professional Equestrian's Guide to Time Management," and " Cross Training, Cabanas, Pools and Pastimes," for some ideas on how to get the most out of your daily routines.
Spring is also the perfect time to purchase your dream barn for the backyard. The process can be overwhelming but with a good strategy you can "Take The Reins On Your New Horse Barn Dream," and make it a reality this year.
The abundance of horse rescues all seeking your help either financially or with time as a volunteer have many of us asking how do we choose where to put our good energy. Kim Sanford sounds off in her piece, " The Ethics of Horse Rescue," and offers some good pointers for those of us concerned with where to place our trust.
Don't forget to trot in and visit our Facebook page and enter for your chance to enter a FREE copy of the new title from our friends at Trafalgar Square Books,
"Horse Fun." It'll keep your horse crazy kid busy for days whether they currently own a horse or just have a pony on their list of wants. Our Yay or Neigh column has a review to explain the book in detail.
Thanks for checking in at Catskill Horse magazine!
If you write and would like to contribute; have news you would like to share about your organization or activities at your farm, please email info@CatskillHorse.org
Please to visit our Facebook page and keep up on current news and come join the chat at the Catskill Equestrian Group too.
Happy Riding!
Nikki Alvin-Smith
Editor
Catskill Horse Magazine
Publisher: Horse in a Kilt Media Inc.
---
Learn More About Horse Hay
Have you ever wondered where your hay comes from? In this episode, we learn about what it takes to produce the most important component of a horse's diet. Plus, we learn about things like how to spot a good bale when you see one, how to measure moisture content, prevent spontaneous combustion, and more. Hay farmer, Nikki Alvin-Smith from Willowview Hill Farm Dressage, brings a ton of really interesting information.
---
Winner Announced!

The Merry Band at the Catskill Horse are pleased to announce Kimberly Biczis of Jackson, NJ the winner of this lovely book from Eric Smiley.
" I just can't wait to see it," said Biczis, excited at her win.
With thanks to the folks at Horse and Rider books for the donation!
---
Keep Your Horse Safe During Sumer Trailering Trips with Tips from Cavallo Horse & Rider
Q: Cavallo Hoof Boots Q&A: What can I do to keep my horse safe while trailering?

Cavallo President Carbre Herder shares her advice….

A: Preparation is prevention when it comes to trailering. More than 50 percent of the injuries horses sustain in transportation are to their lower limbs. Ranging in severity, from treatable surface wounds to irreparable impairment, the main causes are scrambbrng, loss of balance and conflict with other horses. With less frequency are collisions, fires, over-turned trailers, trappings, trappings and tying up.

Although daunting, it is your responsibibrty to be aware of the risks for accidents and injuries and do the best you can to prepare for anything. You don't want to be the one responsible for something that could have been prevented. Equally consider your own aptitude and preparation, your trailer safety and maintenance and your horses' emotional and physical well-being.

Here's a checklist of what to do to prepare for trailering trips…. Read the full article...

---
Creating a Diverse Healthy Pasture for Your Horse
By Joyce Harman, DVM, MRCVS


Equine health (and human health, for that matter) is closely intertwined with soil health. Soil health directly affects plant health and the nutrients available to the plants are absorbed in turn by horses. Healthy soil and healthy horses are therefore, inter-related. And microbial populations in the gut, called the microbiome, are also beneficiaries of this relationship.

Maintaining a healthy population of micro-organisms requires appropriate food, the correct environment and substrates (prebiotics) upon which to grow. In soil, the correct pH, minerals and organic matter all must be present. In the equine (and human) intestinal tract, the correct pH, minerals and soluble fibers (prebiotics) must all be present. Notice that the same basic ingredients are required whether the land is producing plants, or the horse/human is living. Current research is showing that the natural microbial population in the horse (and human) is primarily soil-based bacteria. So, eating a little bit of dirt is actually a good thing. Read the full article...

---
The Importance of a Detox Program For The Equine Athlete
As with human athletes, high performance equine athletes cannot be kept at peak performance year round and a rest from heavy work can actually contribute to a stronger athlete in the long run by allowing the body to heal and rejuvenate.
Competitive horses face mental and physical challenges that a less active horse does not. The intense demands during competition, stress of travel, changes to feeding routine, and the possible decrease of fiber in a horse's diet due to lack of grazing on the road can affect health and performance. These challenges can often upset a horse's delicate digestive system that will need to be repaired before peak performance can then again be achieved. Read the full article....
---
Keeneland, Fasig-Tipton and Ocala Breeders' Sales Announce Ban of Off-Label Use of Bisphosphonates

LEXINGTON, KY, Officials from Keeneland Association, Fasig-Tipton Company Inc. and Ocala Breeders' Sales Company Inc. (OBS) jointly announced today that they will enable buyers of horses younger than four years old to have those horses tested for bisphosphonates. The policy is undertaken to ban off-label use of these drugs. The revised Conditions of Sale for each of these sales companies takes effect July 1, 2019. Read the full article...
Editor's Note:

The breakdown of racehorses at racetracks around the country, have many folks scratching their heads searching for the reason. In our recent blog, we pointed out that medications could possibly provide the answers and in particular bisphosphonates such as Osphos®. Please read the blog for opinion and more information on this important topic. The use of these medications does not just affect the racehorse industry, it is a wake up call for all horse owners.
---
Check Out Horse Radio Network Alumni Helena Harris Podcast Stall and Stable
Listen in for advice "Keeping a Grand Prix Dressage Horse".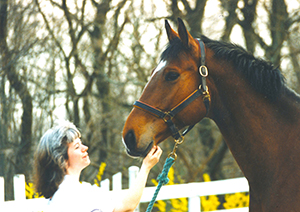 ---
Enter Now For Your Chance to Win A Copy of This Fabulous New Book!
Many Brave Fools
A Story of Addiction, Dysfunction, Codependency ... and Horses
Susan E. Conley
$19.95
For details on how to enter please visit our Facebook page.
Winner is Julie Harris.
---
Catskill Horse T-Shirts & Notebooks Now Available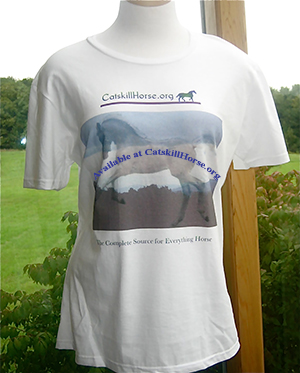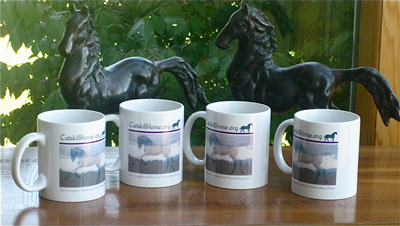 Catskill Horse is pleased to announce that we now have T-Shirts, mugs and notebooks with our own arty design available for purchase to help spread the word.
Buy any one of our products - choose from our 100% cotton T's or buy a mug or notebook.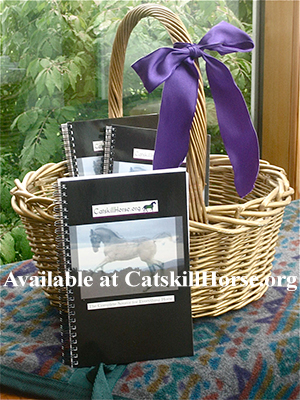 T-Shirts are available in Womens Fitted S/M/L/Xl and Unisex S/M/L/XL/2XL for only $20 plus $6.50 S/H. If you are located in NY please add 8% sales tax.
Mugs: $12.95 plus $6.50 S/H. Please add 8% sales tax if you are located in NY.
These fun notebooks are available for $11.95 plus S/H fee of $2.00. Please also add 8% sales tax if located in NYS.
Checks should be payable to Horse in a Kilt Media Inc., and mailed to P.O. Box 404, Stamford, NY 12167. Please allow 1-2 weeks for delivery.
---
Vaccine Risks?
Here is some advice on what to look out for as your horse is administered vaccines this season. There have been reports of some serious adverse reactions this year, so be vigilant and ask your vet for their advice and specifically what adverse vaccine reports they have received through their channels.
It's important to be able to distinguish between minor side effects and those reactions that warrant a call to your veterinarian.
 
Normal Responses
After intramuscular vaccination, it's fairly common for horses to experience mild, temporary side effects for a few hours such as:
• Local muscle soreness or swelling
• Fatigue
• Fever
• Loss of appetite
• Lack of energy or alertness 
 
However, if the signs listed above last for more than 24 hours, you should consult your veterinarian as soon as possible to inform them of what is going on with the horse. This will allow your veterinarian to provide you with treatment advice and care instructions.
 
Causes for Possible Concern
Sometimes more serious side effects, and in some cases, life-threatening events, can occur, including:
• Hives
• Difficulty breathing
• Collapse
• Colic
• Swelling at the injection site several days post vaccination.
These more serious side effects are rare, but do require immediate consultation, and, in some cases, medical intervention.
 
Working with your veterinarian is the best way to ensure your horse is being evaluated based upon its particular needs. Many veterinarians follow the American Association of Equine Practitioners' recommended guidelines for core vaccinations.  Veterinarians can also be helpful in determining the need for other risk-based vaccinations based on an assessment of your geographic threats and travel plans. They are also familiar with the proper handling and administering of vaccines, which is important because those handled improperly can actually become ineffective or may increase the risk of side effects.
CH note: This advice comes from a leading vaccine manufacturer and is provided in excerpts.
---
Come chat on Facebook.
For lots of up to date news and events please fan us on facebook at www.facebook.com/CatskillHorse.
Want to chat too? Check out www.facebook.com/CatskillEquestrianGroup
---
Promote your event.
Have an event planned? Send us the details and we'll post it our events calendar page.
---
Do You Love To Write?
While Catskill Horse has a staff of professional contributing writers/reporters/photographers, Catskill Horse is always interested in receiving submissions of articles and photos for publication from new writers. We can provide a photo or authorship credit for those works accepted. Please do not submit via mail - we prefer email submission. Send your ideas/articles/wrap up features/photos to us at info@CatskillHorse.org marked attention Editorial. If accepted you will be notified via email.
---
Keep up to date.
Send your email address to info@CatskillHorse.org and we'll be sure to add you to our mailing list.