---
Free Run In Sheds and Horse Barns - Happy Horse Happenings At Horizon Structures
by Nikki Alvin-Smith

Happy horse happenings abound at Horizon Structures and this year is no exception. The 'pay it forward' ethic of the company is well known. Its roots are firmly embedded in the hardworking Amish culture and talented craftsmanship in Lancashire County, PA that is a world-renowned resource for many types of construction. The company's light footprint today encompasses the continental USA, with workshops/factory production across the US that serves the nation.
 
Horse aficionados are well-versed in barn building designs and the requirements to house a horse or two, or more. The leading producer of the modular horse barn, Horizon Structures, has always exemplified the 'good work ethic' philosophy, and the community spirit that goes into making life better for all and is well known within the equine marketplace.
 
For the 5th year in a row, part of the 'give back' or 'pay it forward' philosophy, that the founder of the company, Dave Zook takes very much to heart, is to offer an opportunity for folks to enter a sweepstakes style contest for an opportunity to win a free horse barn or run-in shed (which depends each year by contest).
 
The success of the past four years for the Horizon Structures free run-in sheds/barns offered in the nationwide sweepstakes competitions, has seen horse rescues such as Flare Oaks Rescue and Starfish Equine benefit from their wins in addition to private horse farm owners Bill Wisdom and Kathy DeNicola enjoy ownership of handsomely Amish crafted horse buildings.

 
"There is nothing better than seeing a horse enjoying the shelter from the summer swelter under cover of a run-in shed or safely secure and comfortable in one of our horse barns. The entire team at Horizon Structures loves to give back to the equine and equestrian community and this annual contest is a heartwarming way to accomplish that goal," says founder and owner of Horizon Structures, Dave Zook.
 
Aptly entitled "Beat The Heat Retreat" the simple to enter contest is open from April 1st, 2023 through June 6th, 2023 and details are published on Horizon Structures Facebook and Instagram pages, so don't forget to check in either directly here or through their social media platforms.
 
In order to spread the news and the love of horses and help provide for their housing needs, Horizon's innovative leader, Dave Zook has also instigated another level of participation in regard to the contest, with a new format "Influencer Contest."
The idea is to encourage people to share news of the contest on their own social media platforms to help widen the contest entry audience and help influencers out by offering prizes for their work. While previously many volunteers and supporters of horse rescues would share news of the contest, there was no financial reward on offer for their efforts. $5000 is up for grabs based on five prizes of $1000 each, and this contest is open to anyone that wants to play.
 
This year the free building on offer, is a beautiful 10' x 20' run-in shed. As an added bonus the contest winner enjoys free delivery and set up costs as well as the super quality Amish crafted run-in shed. In past years both run-in sheds, and the extremely popular 2-stall barn with overhang and supply/tack room has been on the table as a stable. Winner Starfish Equine Rescue was certainly delighted their win, as seen on the videos at their Facebook page.
 
In today's rushed and hectic world where some businesses seem to be chasing money without ever giving back to their customer community, it is heartening to see that a company is putting forth the effort to make the world a little bit better.
 

Horizon Structures is truly a family business. Like father like son, Dave Zook's son Justin works at the company. And, just like father like son, Justin is keen to make the horse barns and other buildings the company produces as available as possible to folks from all walks of life. A horse barn can be a major capital expense, and not everyone has cash sitting about ready to invest in a new building. While Horizon Structures has long offered 3rd party financing options the Zook family constantly strive to make life a little easier and a little better for their customers by keeping a keen eye on the financial world and locating great financial resources their customers can easily utilize.
 
Justin Zook explains the latest offering:
 
"HFS Financing is a unique financing option we have never been able to offer before. With a borrowing range between $20,000 - $500,000, nearly all of our projects can be 100% financed. They also finance additional expenses to help with the project such as the foundation, electricity, and fencing. 
 
HFS makes it very easy to apply, see your estimated payment and rate, all without pulling a hard credit check. With quick funding, no prepayment penalty, and 120% financing, this is really a unique opportunity we are excited to offer."
 
But Horizon Structures is not just about helping people figure out ways to get the barn of their dreams built and ready for 'instant' use, there is a keen attention to ensuring that the resulting build meets the customer's expectations and that the purchasing experience is a positive one.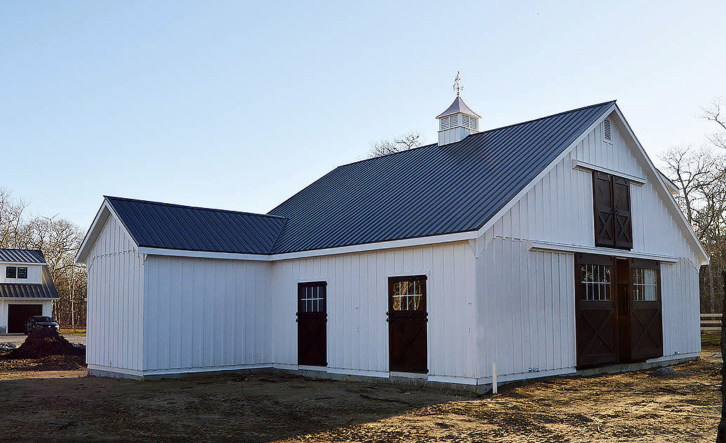 The best way to ensure that folks know exactly what they are buying is to show them. And Horizon Structures is always out and about showcasing their products and answering questions.

Horizon Structures exhibit is a popular fixture at the North East's Equine Affaire, held every Fall in W. Springfield, MA. This great venue is a good outing for the entire family and offers a chance to see the Horizon product line in person, but if you can't make it to the company's 'lot' or to an event such as Horse World Expo in PA, then their website does an awesome job of putting you in touch with barns they have built for other customers around the country. The company's transparency is a fundamental part of the open-hearted mentality that has set it apart from the competition from the very beginning when it started over a decade ago.
 
The product lines at Horizon have grown exponentially over the years, and now include high end timber frame barns (mortise and tenon peg joinery), in addition to their sought-after modular builds. But horse barns are not all they do either.

 
Commercial and residential kennels made with the most modern materials and efficient designs to house everything from the family dog to the canine professionals, including K9 operations and prestigious show dogs including TV talent animals such as Sara Carson's from the hit TV Show with Simon Cowell America's Got Talent are part of the line up at Horizon.

 
As well as the latest in outdoor living loveliness, timber frame pavilions. While a full range of outdoor living structures with everything from poolhouses to playsets, innovative 'cottage' greenhouses to gazebos on offer. The company has evidently grown well past its chick stage with the chicken coop business that hatched into horse barns and horse housing over a decade ago.
 

It is heartwarming indeed to see that the company's owners have not forgotten its community spirit and makes a point of giving back with these annual giveaways of barns/run-in sheds and sponsorships of worthy causes like Dominique's Smiles.
 
With good old-fashioned customer service and a team that goes the extra mile, Horizon Structures is likely to remain in the forefront as the choice of barn build for the amateur and professional equestrian.
 

Don't forget to enter the sweepstakes. After all, who wouldn't like a free run-in shed to keep their horses cool, calm and collected or some extra cash for their efforts to share the news of the happy horse happenings at Horizon Structures.