---
What's In A Name? The Gypsy Vanner Revealed
~ CH Staff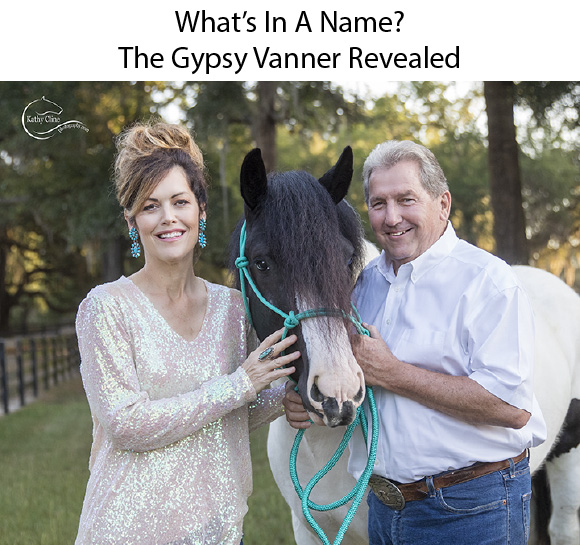 Erin Mahoney and Dennis Thompson
Today's increased awareness and sensitivity to cultural heritage and how tradition and history is observed, has illuminated the question of just what is a Gypsy Vanner horse and how appropriate is the use of the word 'gypsy' in its moniker.
To break down the name to better understand its use we learn the term vanner as defined in British English identified "a horse used to pull delivery vehicles". The term "Gypsy" has been felt by some to be an offensive racial slur, but is still widely recognized without offense within the community of 'tinkers, travelers, romas, romani, bargies, river people, carnies, etc.' and the litany of groups of itinerants that come under its umbrella term. It is utilized in many legal documents as an identity tag to define the communities above to the present day, particularly in the U.K..
A key U.S.A. importer of the well-known feather legged colored equine, the Gypsy Vanner, Dennis Thompson, based in Ocala, Florida, began his highly successful farm, Gypsy Gold, based on the breed.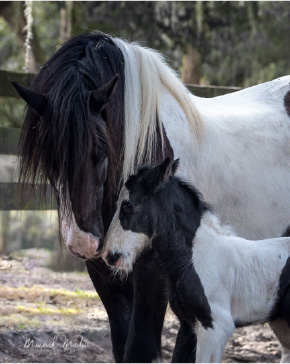 Together with his late wife Cindy, he regularly traveled to Britain and Ireland to source these average sized draft horses, whose genetic composition is largely from Shire, Clydesdale, Friesian (the Roman warhorse/forest horse) and Dale pony breeds.
If you have visited this #1 rated Ocala tourist horse mecca (as heralded by Trip Advisor), you may have met Dennis Thompson and know well his sincere ability to engagingly tell the story of the farm and the Gypsy Vanner breed. His many witty and humorous anecdotes and first hand knowledge transport the listener to romantic notions of days gone by that mirror the fairy tale beauty of the horse breed itself.
Interaction with the horses, mules, donkeys and other critters at the farm are encouraged, and carrots and treats may be fed. For photographers the Gypsy Vanner horses at Gypsy Gold Farm offer a special attraction with their flowing manes and tails, feathers and fine features. Noted names such as Mark Barrett and Gabrielle Boiselle are just two of many esteemed photographers that have captured the essence of the breed through the lens.
It is not surprising that the Thompson's established this premier farm for the Gypsy Vanners, as both were extreme animal lovers from children with successful backgrounds in animal care and within the pet industry before they embarked on their 'new breed' exercise.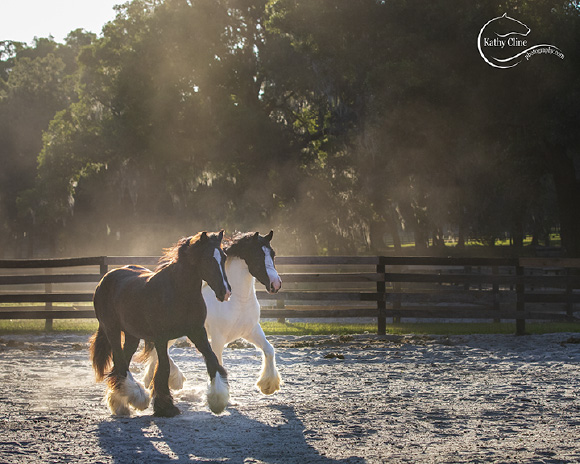 The story of Gypsy Gold Farm began with a trip by the couple to the U.K. in 1995, that included a visit to The Shire Horse Center, Maidenhead, England and culminated in an adventure to isolated areas of the Welsh hills and the discovery of a particular black and white colored horse in a field. This event set the Thompsons on a path to import the gentle giant to the shores of the U.S..
When the horse named at that time, 'The Log', owned by Roy Evans, eventually arrived stateside after a two year period, the Thompson's renamed the stallion 'Cushti Bok', meaning 'Good Luck'.
The Thompsons' ardently pursued knowledge of the breed and its heritage and their investigations in the mid to late '90's, included attendance by special invite to the famed Appleby Horse Fair in Cumbria, England. They imported 16 horses to establish the first registry for the breed, " The Gypsy Vanner Horse Society."
Dennis Thompson explained their first import experience with tangible excitement in his voice, even this many years down the road: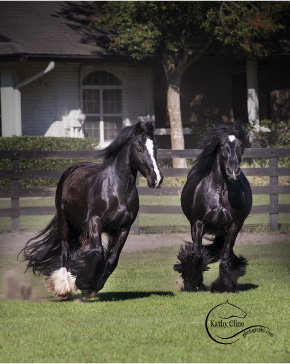 "When the horses were arriving at U.S.D.A, in Newburgh, NY, Cindy and I were too excited by their arrival to leave the transport to anyone else. We purchased the thickest horse blankets we could find, along with head bumpers and boots and headed up to New York to pick them up ourselves. In our lives together Cindy and I had owned a farm and kept over 700 animals at one point, that included exotics and domesticated species including giraffes. The idea of hauling these big horses did not faze us, we were used to working with big animals. The staff at the U.S.D.A. were more than a bit surprised when they saw we had donned the horses in their blankets and winter attire."
Imported foundation mares such as Bat and Dolly, through to surrogate mule moms that grace the farm today that carry progeny of the great stallions the Thompson's imported such as Gypsy Gold and Cushti Bok, all attest to the devotion that the couple have stalwartly continued through many years to this heritage breed of horses.
Sadly Cindy Thompson suffered a fatal accident in 2002. Today the legacy of the Gypsy Vanner in the U.S.A., continues with much hard work and dedication by Dennis and his wife, Erin Mahoney, who Dennis met through Facebook.
"In the beginning of our relationship Erin was in Dubai and thought I was stalking her on Facebook and I think she thought I was a creep," Thompson jokes. Mahoney shares Thompson's love of the breed and her admiration for it brought her to the U.S. where the couple worked together for several years before marrying.
When asked what inspired Thompson to begin the journey to establish the Gypsy Gold Farm as a tourist attraction as a means to fund the protection of the horse breed, he explained the notion of the Scottish Naturalist, John Muir, the forefather of the National Parks that, "Nothing Dollarable Is Safe."
"John Muir understood that the forests and nature was not safe as long as there was money to be made from it. Whether that is oil-drilling or logging, or any other means of exploiting an asset, the greed to make money makes nature vulnerable. I figured if I was going to preserve the heritage and beauty of the Gypsy Vanner breed of horse I needed to educate people about it and do it in a way that people could share in the experience to maintain the integrity of the breed and to keep it safe."
Thompson does not see the term 'gypsy' as a negative or inaccurate name for the breed and is keen to dispel common perceptions of gypsies as incorrigible thieves and untrustworthy individuals.
"When you look anywhere in the world there are itinerant populations. In Ireland the potato black blight and resultant famine caused huge populations to be forced to move to secure food. In Scotland land barons made decisions to evict sharecroppers from their lands in order to farm sheep, that resulted in people being forced to move. These groups form the Irish and Scottish travelers of today. The Romani (Roma) people emigrated from northern India and spread across Europe and Britain. Many countries in the world have groups of travelers."
A common language, Roma, still exists today between all the itinerant populations mentioned and its preservation is a keen focus for the people who have been subjected to much hardship, including lack of education over history. Their constant movement and lack of schooling have meant many cannot read or write, and this makes the preservation of a common language across country borders ever more important.
"I have nothing but respect for the gypsy people. I have always been treated kindly by the many families I have met and sat down to supper with, dealt with on horse purchases and been shown much hospitality across many communities. When Cindy and I would visit Fair Hill at Appleby we had such good times together with folks like the McCanns and others that shared their stories and their lives with us. I want to continue to produce their breed of horses, and to honor the attributes within the breed that make them so special. As horses living as part of the family, it has always been apparent that much pride is taken in having a horse with a good conformation and great temperament, willing to work and happy to play alongside every member of the family, no matter their age."
Thompson is keen for his passion and preservation efforts for the Gypsy Vanner and for animals and birds in general to continue well past his own lifetime.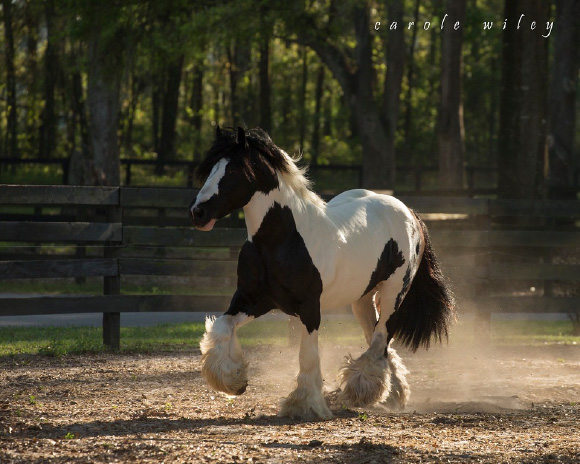 "I want to leave a legacy that will continue the Gypsy Vanners' heritage. Not simply horses to be bought and sold to make money, but to honor their history and the people who made them what they are known for today in their beauty, work ethic and great natures. At our farm Erin and I have added our own 'Fair Hill' where our late horse Cushti Bok and the rest of our first 16 horses are buried. I am a man full of ideas as you may have figured out."
Along with the already established and well-visited museum, plans for a Cushti Bok arena for cultural education, a foundation to gift scholarships to aid in educating the animal-loving youth progress as well as the recent development of the Viking Trail that honors Thompson's late wife and her love of birds and Dennis's background in child psychology, Thompson's creative talents are realized throughout the property.
There is little doubt that the increased popularity of the Gypsy Vanner across the U.S.A. as a driving horse, dressage mount, trail buddy or backyard pet will continue far into the future. New registries continue to pop up and competition classes and specialist showing opportunities abound for the breed.
Some owners describe the breed as stubborn, while others embrace the character of the breed as individual with strong leadership skills. As with any horse training, it is essential that the horse understands the task being requested of it and has the necessary confidence and ability to complete the task. The horse should always be trained in a consistent manner and handled with a kindness. Most issues with stubbornness in horses stem from a lack of understanding, either on the part of the horse, the handler, or both.

There are inherent health issues that come with any breed of horse and the management of long manes and feathered legs is a common problem for owners of Gypsy Vanners.
As with any draft horse breed with feathered legs Chronic Progressive Lymphedema (CPL), can be an issue. This is a "debilitating condition caused by a buildup of lymph fluid in the lower legs that result in progressive swelling with associated skin folds, nodules and ulcerations," according to UC Davis. Careful management of horses prone to this condition is required.
Additionally Polysaccharide Storage Myopathy (PSSM) is also found in the breed, and testing before purchasing a horse is a sound idea. Appropriate feeding regimes with non-structural carbohydrates, a ration balancer and correct protein level can aid in management of this disease.
Cindy and Dennis Thompson, Erin Mahoney and the team at Gypsy Gold Farm deserve credit for bringing this breed of horse to the American marketplace and sharing their personal experiences abroad to better explain the rich cultural heritage that the Gypsy Vanner embodies.
Editor's Note: With thanks to Dennis Thompson for taking responsibility for the copyright release and provision of all the photos published in this article.