---
How To Improve Your Outdoor Event Venue
By Nikki Alvin-Smith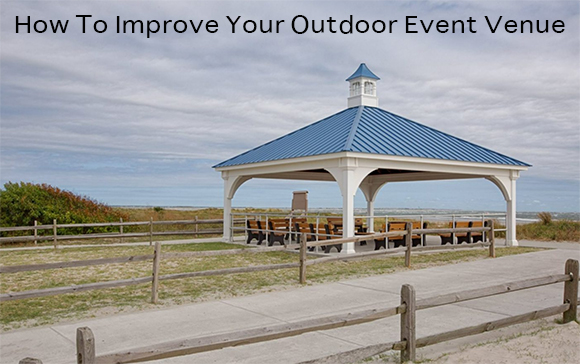 Wedding planners, restaurant owners, innkeepers and hotel management all seek to outdo their competition when it comes being center stage for the main event.
Business is driven to the venue by the aesthetic appeal and functionality of the space created. It might just be time to 'ditch the tent for your next event!'
Spring is around the corner and summer not far behind it, so if you want your outdoor structure to be ready to go in time for the season plans should be made now, as manufacturers are traditionally seriously busy at this time of year with longer lead in times.
To set the stage for success it is prudent to plan the site of the structure with care. Consideration of drainage, sunlight and shade, backdrop and setting for photos and best ambience all matter when it comes to placement of your gazebo, pergola, pavilion or pool house. Access to water and electric services, proximity to kitchen or dining spaces, safety for use by children if placed poolside, are other factors to contemplate. Here are a few tips to consider when making the decision to add value to your event space: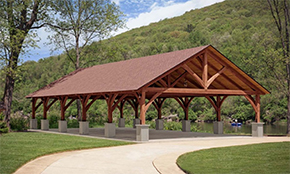 For wedding planners the provision of a pavilion with pergolas to the side can make grand entrances possible for bride and groom, and provide a pretty picture for the attendees, while also offering a place for the groomsmen and bridesmaids to stand during the ceremony out of the glare and heat of the sun. For those of us that have spent many hours in the makeup chair and with the hairdresser before a wedding, we know how important shade can be to keeping all in place in readiness for the wedding photos that come later.
Walkways that lead the eye to the structure can be threaded and curved between planted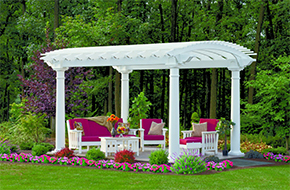 gardens for extra aesthetic appeal as the twists and turns invite exploration to the end result, the beautiful outdoor living structure. In any event a walkway is important as it negates trampled turf, grass stains on white wedding dresses and mud on the heels of shoes. It is also safer for folks carrying trays of food and drinks and allows access with food trolleys and strollers.
Pergolas and arbors make splendid places to weave bunting, ribbons and fabrics. Decorations and lights can bring in additional color and frivolity or elegance to an event.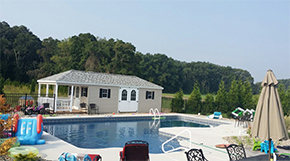 Selection of low maintenance materials such as vinyl over wood, can mitigate the need for constant repainting or staining of the structure. Bear in mind some stains and paints are now offer warranty periods of up to 15 years, but still the option to leave the paintbrush on the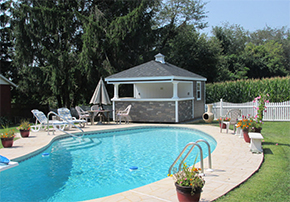 shelf exists.
Think about providing a space for storage of outdoor furniture, pool toys and cleaning supplies. A shed with a matching style/design can be purchased to complement the outdoor living structure and add a valuable safe and secure spot to store necessary accoutrements for events such as chairs/tables/candles etc.
Pavilions come in many shapes, styles and sizes, and can be the perfect gathering space for community events. Set up and hosting can be implemented whatever the weather and not be hindered by a passing summer shower.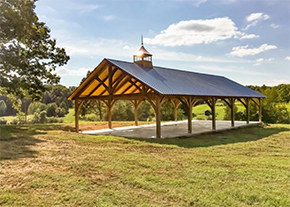 Pavilions provided at sporting venues offer spectators a place to sit in the shade in a central location way from the dust and keeps them safely out of the way of the action. For example, horse showgrounds can greatly benefit from having specific areas designated for show personnel staff to sit in proximity to the arenas sheltered from the weather and VIP or spectator areas away from horse traffic.
Shed manufacturers often offer an array of customizable structures for outdoor use, including concession stands, judges' booths, dug outs and other highly useful buildings. Don't be shy to contact them directly and ask.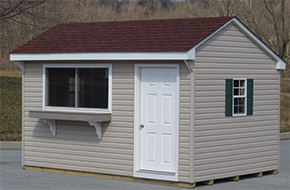 Permits may be needed for permanent structures. Don't forget to find out in advance of purchase. Many manufacturers will provide plans for a nominal extra fee as part of their package for the purchase of the structure, its set up and delivery to your site.
For businesses with limited indoor space, the investment in an outdoor structure offers the opportunity to maximize use of the entire property. Time and labor is not wasted on set up and knock down of furniture and tents every time an event is staged, and restaurants and agritourism business owners can enhance the number of covers served increasing profits.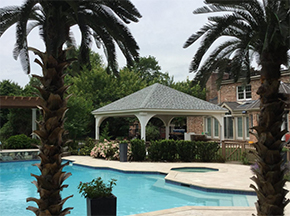 Ask your accountant about the deductibility of any capital purchase, depreciation and amortization benefits at the end of the year can help mitigate the initial capital outlay expense. If you choose to work with a leading prefab or modular company, you may also enjoy the benefit of financing options to purchase the structure right away, so you can begin using the structure for events now and start making profits to fund the cost rather than using up cash reserves at the beginning of a season.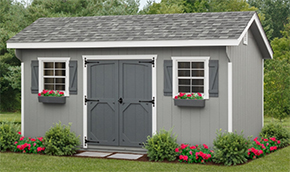 If you are interested in improving your tired looking outdoor venue space or are excited to build a new one, get to know leading local manufacturer Stoltzfus Structures. Based in Atglen, PA their Amish carpenters have been creating buildings of many styles and designs for over 40 years and they offer a wealth of advice and services. With nationwide delivery available, a website chock full of helpful advice to help you select the perfect structure for your space and advice on site preparation, the Stoltzfus family owned business is a great resource for whatever event you are planning to host, from backyard pool parties to the most elegant of weddings.