---
Treat Your Teenager to a Retreat
By Nikki Alvin-Smith
Homeowners across the country have embraced the idea of adding a space to retreat as a man cave or she shed. In parts of Europe the common garden shed has been removed and transformed instead to a delightful indoor/outdoor structure that has been designed to appeal to that most tricky of family members, the teenager.
While Mom and Dad definitely appreciate the privacy and solace an outdoor structure can provide to defray the stress of their busy lives, the idea of utilization of a shed or similar structure away from the house as a retreat for the emotionally charged hormonal teenager has become particularly popular in countries like Britain. If you think back to your own teenage years, you probably recall spending much time alone in your room, playing music too loudly and generally chilling out with a friend or two discussing the wrongs of the world.
Hectic lifestyles, stressful school life, relationship explorations gone amiss all convene to make teenage life a rollercoaster experience and the notion of a quiet space, one that can be adapted to be comfortable and cozy an offer privacy yet still be within the family compound is a good option. Especially if your home is on the smaller side, or is crowded with too many kids all clamoring for attention at the same time.
With the opportunistic and predatory nature of nefarious community members that are all too keen to engage a lonely teenager with promises of feeling better with drugs, alcohol and the sincere worries over human trafficking, parents like the idea of keeping their teenagers where they can keep an eye on them. The creation of an outside shed retreat for the teen, can become a hub for their friends to gather and socialize, and offers a grown up experience that can be replete with TV/computer access, easy clean furniture and a safe environment, where parents can monitor the comings and goings of friends without an excess of control that would only serve to push the teenager way.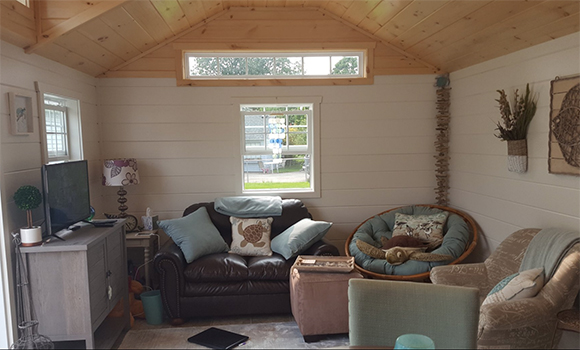 A prefabricated shed can be chic and stylish, and can be modern or traditional in design. Placement of the structure is not generally limited by access issues, as sheds can be placed with the use of a 'mule' device into even the most difficult of locations, and the garden can provide the perfect distance between the teenager and the parent. The shed offers a habitable space that provides peace and privacy, or a safe distance away from blaring music and loud voices. Customization options from leading shed manufacturers mean that you can even add sound baffling insulation if you don't want your kids disturbing your neighbors.
Seek out a shed manufacturer that offers worry free financing, a 'to the penny' quote and offers lots of options for design of the shed in terms of materials used, color and low maintenance.
We spoke with Jonathan Zook of Stoltzfus Structures. The company is a leading manufacturer in the world of all things shed building and their Amish craftsmanship has been on point for over 40 years. Nationwide delivery and financing options, make this PA based manufacturer a keen resource for the savvy shed buyer.
"The use of the prefabricated shed extends far beyond the she shed/he shed idea these days. At Stoltzfus Structures we know that customers want to pick and choose from a large selection of colors and designs to make their shed either 'pop' and make a statement or want one that blends into their home's existing architectural design. We offer both traditional board and batten to modern siding materials and work directly with the client to make sure all the details they desire are included. From easy clean polyurea floors to varietal window styles and placement, and features like cupolas/windvanes and window boxes to accent the shed. There is no reason to compromise when it comes to buying your shed. You don't have to sacrifice choice and buy what you see at the local shed store on your drive to work," explained Zook.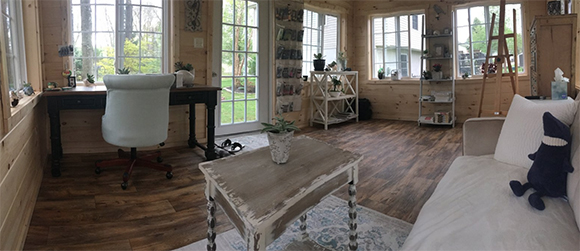 Indeed, a look at their website will inspire even the most stoic of folks to get excited about buying a shed and as installation is quick and easy, the space can be ready for use almost instantly. Stoltzfus Structures not only offers financing, you can also pay via Bitcoin.
"Our mission is to provide the best possible customer service experience and a top quality product that will provide many happy years of use for the family. The added value that a prefabricated shed can provide to quality of life and also property value cannot be overlooked," explained Zook.
Give it a look! You may be surprised at what's on offer and how affordable having that extra space can be. An added bonus, when your teenager moves out of home, the shed can easily become a retreat for you!